Tagged with " subfeature"
According to the 2011 Chicago Murder Analysis issued by the Chicago Police Department, the number of murder victims has decreased significantly over the years from the year 1991. However, the number of murder crime complaints has increased year-to-date by 40 percent.
The Chicago Police Deparment issues a weekly report detailing the number and percentage of crime complaints for the week, month and year. As of July 2, 2012 to July 8, 2012, there has been a 50 percent increase for the same week period compared to 2011.
In the last month alone, there has beeen a 58 percent increase noted by the police from 2011 to 2012. Other crimes that seem to be on the rise in the past seven days are crimincal sexual assualt, 3 percent, and robbery, 1 percent.
Chicago Police Department
The unceasing crime in Chicago has begun social movements, from organizations such as Ceasefire to documentaries like "The Interrupters". By spreading awareness of the issue, the hope is that more people will step up to help stop crime and injury to one another.
View the trailer for "The Interrupters" below:
To read more on the statistics on crime, visit:
Chicago transportation is a touchy subject. In order to travel up to ten miles in a car, an inhabitant of the city may as well be taking a sixty mile road trip in another state. So when it comes to commuting or even exploring the eclectic city, a very important subject that should be broached is transportation. How far is it to Navy Pier from here? How should I get there? When should I leave? What is my estimated time of arrival, or ETA?
I mapped out a simple 5 mile route from Belmont and Sheffield in Lakeview, Chicago to Navy Pier, located in the downtown loop. Walking 5 miles is a daunting task, especially in the summer heat, but it may be less stressful than dodging cars while biking or being cramped on a bus or train. Shown below is a flow chart of the typical amount of time it takes to move 5 miles in the city of Chicago.
Rachel MacDonald/Chicago Loopster
Click on these links to view Google Maps and the CTA tracker, both useful sources in navigating the city.
Ever wondered what Chicagoans thought about their daily commute? Here's some of the things they had to say Friday, July 13.
When you think about transportation in Chicago, you may not think about water taxis right away. But you might be surprised how many options you have to navigate the Windy City and to do it traffic-free and with a view you can't get anywhere else.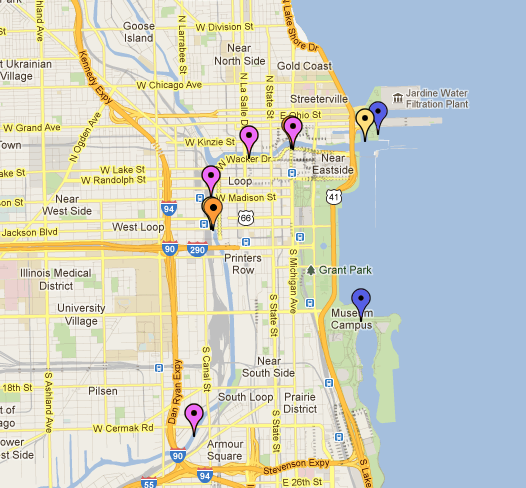 Where you can go on a Chicago water taxi!
Chicago Water Taxi operates the purple route, while Shoreline SightSeeing operates the three remaining lines.
Running is a great hobby and in Chicago there is no end to where you can run. Some of the best running paths are right beside Lake Shore Dr. Below there is a map of a path spanning over 16 miles that has you running right beside some of Chicago's best views. This by far enhances your running experience and makes it more enjoyable.
Below is a path by the lake in downtown Chicago.
David Kashi/Chicago Loopster
David Kashi/Chicago Loopster
At the end of Belmont Avenue lies Belmont Harbor. Secluded by the tempestous weather of Lake Michigan by break walls and surrounding greenery, the harbor is home to hundreds of sail boats. Each mast glistens in the sunlight and the sound of rythmic tapping of lines hitting poles can be heard as the boats sway back and forth in the harbor. A lip of land outstretches the opening of the harbor, keeping the waters inside calm.
Belmont Harbor is a perfect location for those living in Lincoln Park of Lakview to dock their vessels. However, for those living in the city without a boat, another option is available- sailing lessons.
Four different sessions are offered through Chicago Yacht Club for beginner and intermediate learners. Although it is halfway through the summer already- how times flies!- there are two sessions still available.
Chicago is a loud and busy city, and many times the expansive Lake Michigan that lies to the east is often ignored. Yet, there are many opportunities for tourists and residents alike to learn how to sail.
Visit the sites below to learn more information and prices on sailing:
THIS WEEK'S EDITION – Crime in Chicago